Hanging Lake Hiking Permits
Hanging Lake Hiking Permits
MOST POPULAR HIKING ACTIVITY
PRICE:
SUMMER PERMITS (5/01-10/31) - $12.00
Hanging Lake Trail is currently open.
ACTIVITY DESCRIPTION: Hanging Lake is located pristinely in the middle of the Glenwood Canyon and is one of the most popular hiking destinations in Colorado.  Hikers describe it as "incredibly beautiful, absolutely gorgeous, well worth your time, outstanding, breathtaking,"...  and we agree!  Named a National Natural Landmark in 2011, Hanging Lake requires a hiking permit during all seasons.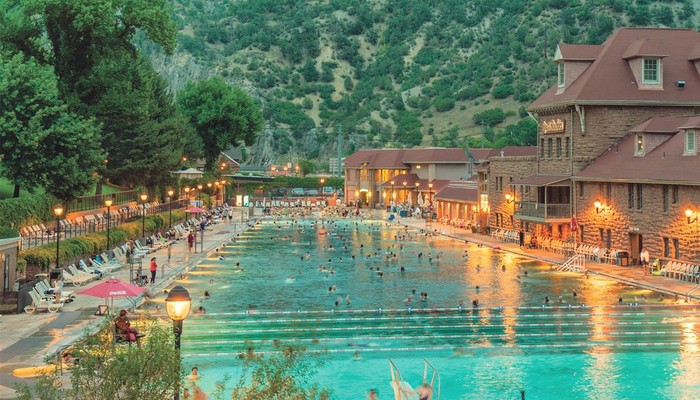 Glenwood Hot Springs Pool
Re-direct to Visit Glenwood by clicking the BOOK NOW ON VISIT GLENWOOD button.
A helpful HLA Co-op guide is ready to help assist with a reservation by calling 970-945-6605
Visit the HLA Co-Op Basecamp at:
 152 W. 6th STREET, GLENWOOD SPRINGS, CO 81601
How To Manage An Existing Hanging Lake Permit
PLEASE NOTE: Hanging Lake Adventure Co-op is happy to help with any new reservations. However, all existing reservation inquiries, changes, or cancellations need to be directed to H2O Ventures, as the official permit provider, at the links provided within your Hanging Lake Permit Confirmation Email or the information below:
CALL : 970-384-6309
EMAIL: info@hanginglakeexpress.com
HELPFUL TRAIL & PERMIT INFORMATION

Hanging Lake - Important Information
As it's name suggests, Hanging Lake looks as if it's almost hanging on the side of the mountain.  Centuries ago a geological fault caused the lake to drop and the minerals spilling over the edge began to build up a fragile travertine deposit around the pool.  Today, visitors from around the world make the hike to see this natural phenomenon and it is each visitors responsibility to ensure that you leave this delicate ecosystem pristine and unchanged.
To reach this special place, visitors must navigate a steep 1.38 mile trail up Dead Horse Creek Canyon. The trail takes visitors over footbridges, through light and dark contrasts, beside remnants of the 2020 Grizzly Creek forest fire, and over large rocks that at times serve as steps.
After gaining 1200 feet above the Colorado River, the Bridal Veil waterfalls spill into Hanging Lake. Icy water gushes out of the limestone cliff through a hole named Spouting Rock, with a hidden path winding underneath. Striking mountain beauty is blended with the residue of a fire that came close, but did not take, our beautiful turquoise lake. After the hike relax on the boardwalk to experience both the peace and the boldness of nature.
THE ECOLOGY IS EXTREMELY FRAGILE, SO THE FOLLOWING ARE NOT ALLOWED:

Dogs or other pets

Fishing, swimming or any bodily contact with the water, including s

tanding on the log 

Drones

Harassing wildlife

Cutting switchbacks or walking off the trail

Littering…pack all items out with you
RECOMMENDATIONS FOR YOUR HIKE:

Be sure all hikers in your group are capable of doing a steep climb over rock steps.

Wear appropriate hiking footwear.  Light sandals won't do.  

In winter months you might want traction such as cleats and hiking poles. It's beautiful but slippery!

Bring water. Snacks are always great, too. Be sure to pack out your trash.

No restrooms at the lake, but excellent ones are provided at the trailhead, along with picnic tables and water.

Cell service is not available.
EXPLORE THESE POPULAR ADVENTURES
Hanging Lake - Frequently Asked Questions